Game Preview: Wildcats vs Albany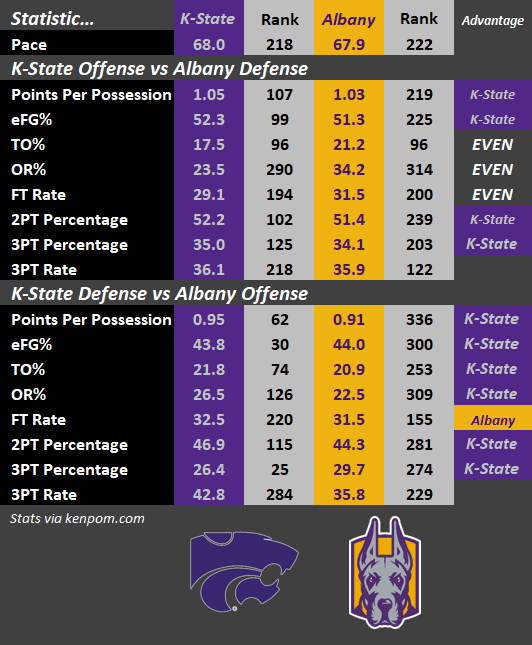 Kansas State takes on Albany in Manhattan on Wednesday evening. The Great Danes are led by first year head coach Dwayne Killings.
Killings was hired after being the lead assistant for Steve Wojciechowski at Marquette. Killings previously was an assistant at Connecticut under Kevin Ollie and at Temple under Fran Dunphy and replaces long-time Albany coach Will Brown who led the Danes to five NCAA tournament appearances.
Albany won their first game of this season last Wednesday against Eastern Illinois after losing their first five games, which included an 86-61 defeat at the hands of Kentucky.
Albany has the worst offense K-State has faced thus far.
They rank No. 336 in KenPom with an adjusted efficiency of 0.91 points per possession. The Danes are only making 44.3 percent of their twos (No. 281) and 29.7 percent from beyond the arc (No. 274) for an eFG% (effective field goal percentage) of 44.0 percent (No.300).
Their turnover rate of 20.9 percent (No. 253) suggests that they aren't great at taking care of the basketball, and they're also poor on the offensive glass with an offensive rebounding rate of 22.5 percent (No. 309).
Albany's best trait offensively has been their ability to get to the free throw line. Their free throw rate is 31.5 percent (No. 155), but they only make 66.3 percent at the charity stripe on the season.
They're a little better on the defensive end of the floor, where they rank No. 219 with an adjusted efficiency of 1.03.
The Danes' biggest strength is forcing turnovers. Their turnover rate forced is 21.1 percent (No. 96).
They allow opponents to make 51.4 percent of their threes (No. 239) and 34.1 percent of their threes (No. 203) for an eFG% allowed of 51.3 percent (No. 225). Also, opponents rebound 34.2 percent of their misses (No. 314) and get to the free throw line at a 31.5 percent clip (No. 200).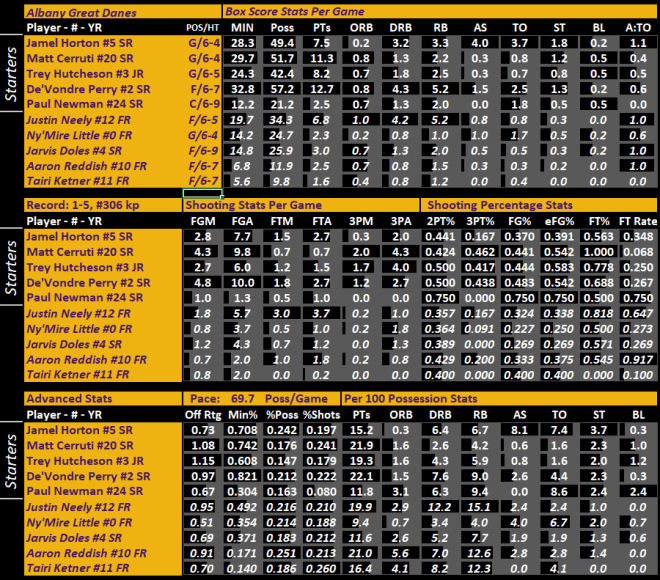 With the coaching turnover, it's no surprise to see that Albany has a lot of new faces.
6-foot-7 forward De'Vondre Perry transferred from Temple and leads the Danes in scoring at 12.7 ppg (points per game) and collects 5.2 rebounds per game. His offensive rating is 0.97 with a scoring rate of 22.1 per 100 possessions. Perry will step out and shoot from beyond the arc, making 43.8 percent on 2.7 attempts per game.
6-foot-4 guard Matt Cerruti transferred up from Lock Haven and is second in scoring on the team at 11.3 ppg. Cerruti leads the Danes from distance, where he is making 46.2 percent on 4.3 attempts per game. His offensive rating of 1.08 is second on the team.
Trey Hutcheson is a 6-foot-5 guard that scores 8.2 ppg and leads the Danes in efficiency at 1.15. He is solid from behind the arc, where he makes 41.7 percent on 4 tries per game.
6-foot-4 point guard Jamel Horton leads with 4.0 assists per game and 1.8 steals per game, but he has a paltry offensive rating of 0.73. Horton scores 7.5 points per game on 7.7 shots and averages 3.7 turnovers per game.
A pair of 6-foot-9 forwards split time inside, with Paul Newman starting and Jarvis Doles coming off the bench. Neither are big scoring or rebounding factors, but they do provide size.
6-foot-5 forward Justin Neely is the leading bench option. He is scoring 6.8 ppg to go along with 5.2 rebounds and an offensive rating of 0.95.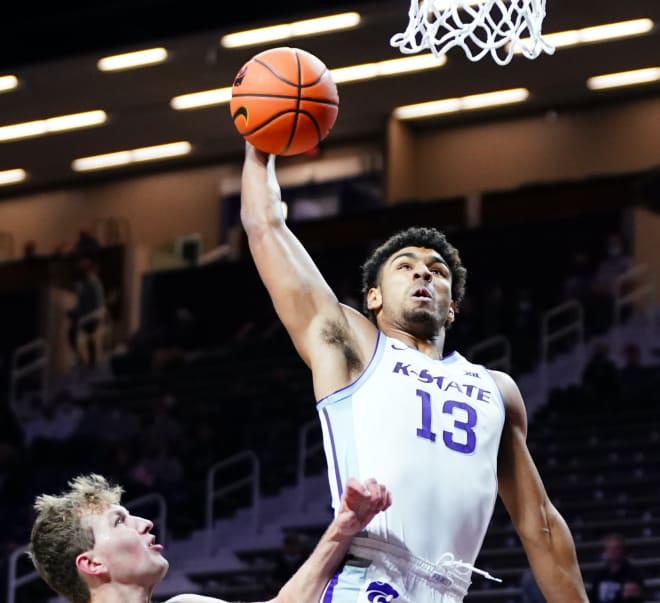 SUMMARY AND PREDICTION
FAN: Albany will provide an opportunity for Kansas State to face some pressure and zone defense, but it is another tune-up game against a team ranked No. 250 or worse, according to the KenPom metrics. It should be an easy win for the Wildcats. The encouragement from Sunday's game was that K-State handled a bad team easily and hopefully we see that again in Bramlage Coliseum Wednesday night, going into Sunday's match up with Wichita State. Wildcats win, 83-52.
DY: According to the data above, it is another lousy opponent for the Kansas State to feast on, quite frankly. Will they do it in the same manner that they did against North Dakota? That remains to be seen. Albany is a little better than that and could keep the Wildcats off the board a little bit. But I don't expect them to score much. K-State grabs the victory, 75-52.
FLANDO: I would like to see three things happen coming out of the two-game stint against weak competition. The first is Ismael Massoud to be aggressive and gain some scoring confidence with tougher competition following the matchup. He hasn't been as much of a factor as I thought he would be thus far. The second is continued offensive efficiency. Kansas State destroyed North Dakota with their most efficient offense in a long time. Making efficient offense a habit will benefit the Wildcats. Lastly, there has been too many wide open three-pointers attempted versus K-State this season. The opponents haven't always made them pay for leaving them open, most notably North Dakota. Instead, I would like to see tighter defense that limits any open shots. Kansas State wins 80-58.