2023 lineman Joe Otting recaps another K-State visit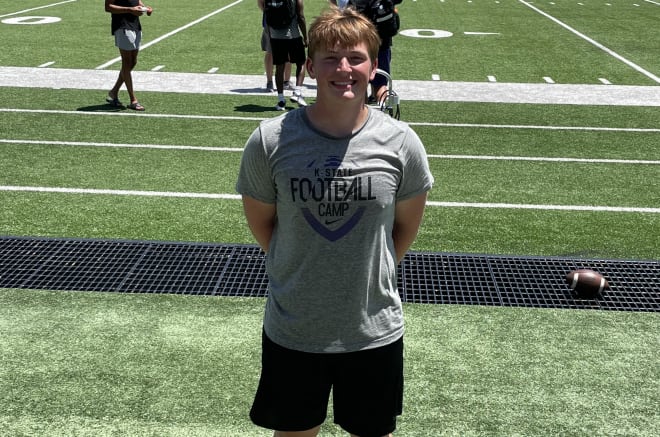 Hayden Catholic offensive lineman Joe Otting was in Manhattan for the third time in eight weeks. He has used the short window of recruiting visits at the end of July to see a few different programs, including Kansas State.
His first trip was for a camp on June 5, which saw him accrue a scholarship offer from Chris Klieman and K-State. The second was a return trip on June 15 to learn more about the school and program.
Otting was back in Manhattan for another visit on Wednesday.
It was an event held by the Kansas State staff, in conjunction with the players on the team. A team picnic, a captain's practice, a barbecue and other games were included in his stay.
However, Otting was running a little bit late because he was a participant at the Kansas camp.
"I was in a position meeting with two other recruits (Camden Beebe and John Pastore) and their parents for a little bit," he shared. "Then we went to the field and ate hamburgers and hotdogs and visited with coaches and players."
There were a few things that were different in this visit compared to the one he took in June.
"I was around the players more and got to meet more of them," he revealed. "Des Purnell introduced me to some players and also took me to his dorm and showed me around."
Kansas State's players made an impression on the rising junior from Topeka. That could be an integral part of the process, as those comfort and relationships often shine through when a decision is made.
"They are really good guys and very welcoming," he said.
Him and the Wildcats speak quite frequently which means something and shows true interest since he has to initiate the conversations as a 2023 recruit.
"I'd say we speak pretty often," Otting noted. "Taylor Braet and I are always in touch whenever they don't have dead periods going on."
For that matter, another dead period will begin shortly, as all the high schoolers buckle down and enter fall camp for their own seasons and the college programs do as well.
Conor Riley is another K-State figure that has played a key role in the beginning stages of Otting's recruitment. The offensive line coach loved what he saw from the Hayden Catholic lineman when he was able to coach him up in early June.
"I think we got a good relationship started," Otting explained. "He's a straight forward guy, which I like."
Otting is not finished with the end of July sprint. He'll travel to Fort Worth for TCU's camp on Friday, but he did point out that he would be visiting Kansas State for a game this season.