{{ timeAgo('2022-06-22 20:00:00 -0500') }}
football
Edit
K-State assistant Van Malone makes strong impression on 2024 cornerback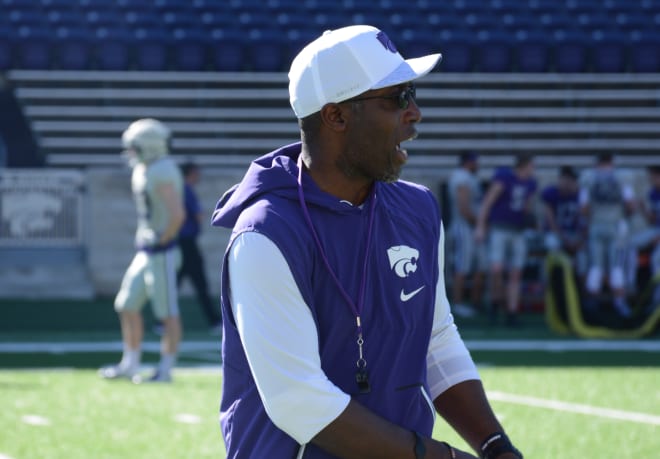 A handful of new 2024 offers have been made by Kansas State during the month of June, with most of them coming after a mega camp. One of those was to 2024 Georgia cornerback Daniel James.
James was offered on June 7 after his performance at the Kennesaw State mega camp.
"At first I was in a stage of shock and excitement after being offered by K-State," James said. "Shocked because I got the offer at a camp. I didn't expect them to offer."
Cornerbacks coach Van Malone extended the scholarship to the rising junior.
"[Malone] said he was really impressed with how I played and moved at defensive back," James explained. "I had talked to him before the camp, so I knew he was watching me. He told me that he was going to offer me and it went from there."
The Kansas State assistant made a strong first impression on the Georgia corner.
"He looked like a coach that wasn't all about football," James shared. "I knew he was a great coach by just how he talked to me before the camp. He is really a developmental coach, as he was giving me tips and pointers after reps at the camp."
"He gave tips on where to line up in certain situations," he added. "They were really just high football IQ tips."
Considering that the two sides have exchanged dialogue since the offer was delivered to James, it's safe to say that mutual interest exists between he and the Wildcats.
"We talked more about K-State and trying to set up a zoom so he could talk with my parents," James noted. "[I'm hoping to learn] just more about K-State and what it's like up there [on the Zoom call]."
Kansas State has struck at McEachern High School in Powder Springs before. That is where assistant Brian Anderson uncovered current safety TJ Smith and flipped him from his Memphis pledge.
But Malone played a role, too.
"Personally I didn't know [Smith] that much," James pointed out. "I just watch him play, always. I liked how he played defensive back."
While the unranked cornerback has offers from Austin Peay, Charlotte, Georgia State and North Carolina State, Tennessee is also starting to show interest and hosted him on a visit on June 12.
"I really liked the campus and the facilities," James discussed. "It was my first SEC school I've been to. I also like the coaching staff. They are all guys who treat you like a player, especially Coach [Willie] Martinez, the defensive backs coach."
James has also visited Georgia Tech and Georgia State and was at NC State last weekend. He is also open to the idea of visiting Kansas State, too, though it hasn't been a huge topic just yet.