K-State giving thanks for Snyder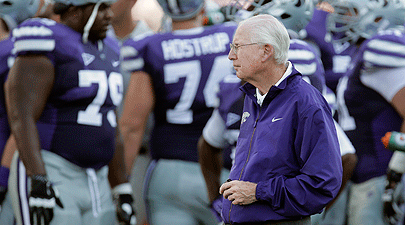 For Kansas State fans coast to coast and around the globe, this Thanksgiving holiday break might mean a little bit more. Sure, they'll eat turkey and take a nap. They'll sleep soundly. On Saturday, they'll awaken and count their blessings again.
That's what you do when Bill Snyder is on the sideline facing Kansas.
So much has been said and written about the man all of these years that many purple-clad loyalists who've witnessed it can recite the legend of The Greatest Turnaround in College Football History as poetically as 'Twas the Night Before Christmas.
But Thanksgiving is a time for giving thanks. That's what Snyder did earlier this week, as the Wildcats, 6-5 overall and 4-4 in the Big 12 Conference, prepare to face the Jayhawks, 3-8 and 1-7, in the regular-season finale Saturday morning in Lawrence.
Regardless of the records, one thing is certain: K-State remains K-State because of the man in the purple windbreaker and Nike sneakers, who once guided his team to victories over KU for 11 consecutive record-setting years, retired, returned, and marches the Wildcats up and down the field against the Jayhawks again.
K-State wasn't the same without Snyder. And either was this rivalry.
"Well, it's not just this ballgame or this rivalry," Snyder said. "There's a lot of things to be thankful for. Just the fact that I'm still standing is certainly one of them. I'm thankful for the opportunities to do as you say, and to hopefully, it might not always be true, but hopefully to have a positive impact on the lives of young people, and to be invested in this program, and the people that surround the program.
"There are so many Kansas State people who truly care about it. We've been very blessed in that respect."
About 85 miles northeast on Interstate-70, another man has taken note of the rivalry that habitually sparks a purple flood in Lawrence. Charlie Weis wasn't there when K-State posted a 64-0 shutout in 2002. He wasn't there when K-State humiliated the Jayhawks at Memorial Stadium in 2010 and 2011. The 59-7 and 59-21 drubbings over overmatched Turner Gill sent purple fans spilling into vacant front rows in the stadium.
The Wildcats offered another familiar drilling to a first-year Kansas head coach with the 56-16 win last season in Manhattan. Weis saw the passion. He saw the pride. He said earlier this week that he didn't "get" the old Kansas-Missouri rivalry -- "I understand proximity and all that stuff, but I really don't feel it," he says -- while underscoring the importance of focusing on the in-state battle that's been so dominated by the Wildcats over the years.
"Coach Snyder has done a great job of magnifying the importance of this game from the K-State perspective," Weis says. "Kansas has to take more of that same mentality. That's what we tried to do. We started last year, but we've tried to put even greater emphasis on it this year, about the importance of this game."
Weis started a running countdown clock to the Sunflower Showdown this summer. He says the message of the game's importance can be found inside the Jayhawks' weight room.
At K-State, the importance of the rivalry is found in a trophy case stationed smack in the middle of the Vanier Football Complex lobby, where a Governor's Cup trophy maintains a comfortable resting place.
Snyder left for three years. So did the trophy. When he returned to the sideline, the trophy found its way back to Manhattan.
K-State players don't believe it'll leave again anytime soon.
"It's been here longer than I've been here," says junior center
B.J. Finney
, an Andale native. "You're used to seeing it. It means a lot being an in-state kid. You don't have to listen to all the KU fans say, 'Oh, we beat K-State.' That happens, but not in football."
And these days, definitely not under Bill Snyder.

Click
Here
to view this Link.
* * *
There's method to Bill Snyder's madness during KU week, of course. No second goes unused. No play by the Kansas offense or defense or specials teams goes unstudied inside the laboratory. Then, on the field during practice, players see the speaker system. They know what's coming next.
"They have the speakers out there with a little bit of 'Rock Chalk' going on, just to let everybody know that this week is a little extra special," says tight end Travis Tannahill, an Overland Park native who left his 2012 senior season 4-0 against KU. "I hate that song with a passion so much. It gets very annoying. Coach puts that extra reminder into your head that we're going into enemy territory."
He doesn't play any opposing team's songs during any other week. Better believe he lets the KU Fight Song blare in obnoxiousness during warm-ups and stretching. Usually during the final 45 minutes of practice when players break into offense and defense, the stadium will echo in jet-engine noise to emulate the crowd inside an opposing stadium.
Nope. On KU week. It's only the KU Fight Song:
"Talk about the Sooners, the Cowboys and the Buffs,
Talk about the Tiger and his tail,
Talk about the Wildcat, and those Cornhuskin' boys,
But I'm the bird to make 'em weep and wail."
Snyder doesn't have to say much entering the week of preparation. He'll start off delving into the previous game and hammer home the corrections that the team must make during practice. He'll offer a scouting report on KU and highlight the top players on the Jayhawks' squad. Then, finally, he'll offer a reminder.
"Coach will say, 'If you don't realize how important and special this game is, you better realize it really quick, because it's a little extra special,'" Tannahill says.
Tannahill was a part of four teams that beat KU by a combined score of 191-54.
He knew the 2009 meeting in Manhattan, Snyder's first KU game since his return, would be crazy. But not this crazy. When K-State players discovered red and blue water-based paint on their vehicles in the Vanier Football Complex parking lot, and splashed onto parts of the building, it was on.
"Yeah, there was some paint on the cars in the parking lot, and whatnot, some red and blue, which when mixed turned purple, so that was stupid," Tannahill says. "That kind of set the tone."
K-State beat KU, 17-10, in the final meeting with Mark Mangino on the KU sideline, and the Governor's Cup returned to a jubilant K-State locker room. The Governor's Cup camped out in Lawrence during a three-year stretch in which the Wildcats lost under a previous head coach who never beat KU, Missouri or Nebraska during his tenure.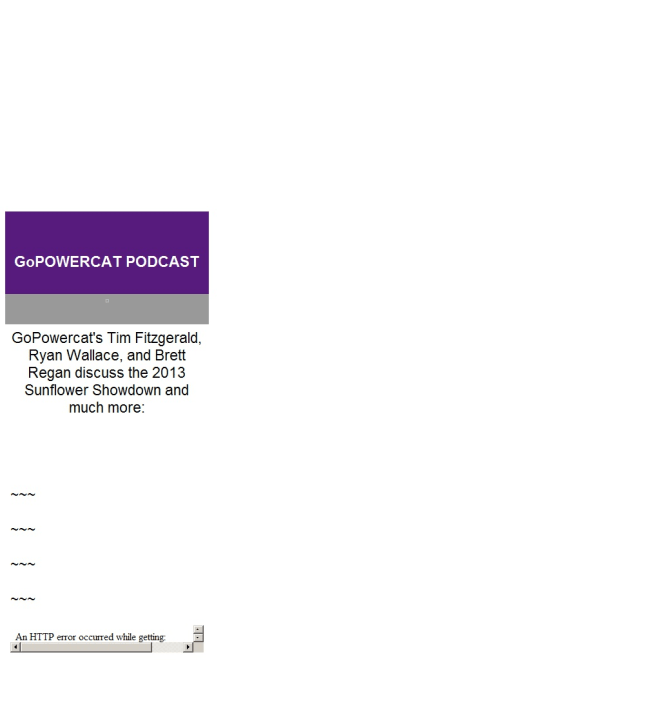 "I'm thankful Coach has had so much success," Tannahill says. "We had a little lull there when Ron Prince was there, and I remember going to those games when I was committed to K-State, and we got beat. If KU wins in football and in basketball that gets really old for us Kansas City folks. "
However, when it comes to these in-state rivalries in the realm of college football history, it might become difficult to find another saddled with uglier beginnings on the gridiron.
In the first 75 games of the Sunflower Showdown, K-State went scoreless 24 times and Kansas didn't score a point in 12 contests. Between 1902 and 1975, K-State went through 20 head coaches that combined for 24 winning seasons. Kansas had 23 different head coaches that compiled 35 seasons with a winning record.
K-State owned a four-game winning streak in the series between 1924 and 1927. Meanwhile, Kansas won at least five consecutive games five different times, including 10-straight wins between 1956 and 1965, which remains the longest series winning streak by the Jayhawks. They outscored K-State 188-0 over five games during that stretch.
K-State's 36-20 win in the final game of the 1978 season in Manhattan gave the program its first back-to-back Big Eight victories in eight years. It spurred the longest back-and-forth tussle in Sunflower Showdown history, as neither team won consecutive games until Kansas eventually won in 1988 and 1989.
Oh yeah, in the midst of all of this? Who could forget the famous Toilet Bowl game of 1987 that resulted in a 17-17 tie in Manhattan. K-State finished the season 0-10-1. Kansas finished at 1-9-1.
"K-State fans had been beat up for so long that they really didn't show their true colors," says Brad Seib, a Hoisington native who in December 1988 became the first in-state commitment for a Snyder recruiting class.
And now?
"Nobody does it better than Coach Snyder at placing an importance on not only each game, but especially this game," Seib says. "He did a remarkable job getting everyone to buy into that game, knowing the importance of that game to the program, to the fans, and to the future of K-State football."

Although K-State trails the all-time series 41-64-5 entering the 111th meeting of the Sunflower Showdown, Snyder has left victorious in 17 of 21 times that he's faced KU. Weis is the fifth different Kansas head coach that Snyder's shaken hands with prior to kickoff. Starting in 1989, Snyder posted winning records against Glen Mason (5-3), Terry Allen (5-0), Mark Mangino (4-1), Turner Gill (2-0) and Weis (1-0).
A brief glance illustrates some of the dominance.
Some might describe these numbers as fodder to jab at KU friends and family while passing the cranberry sauce across the Thanksgiving dinner table. That's fine. Just don't cause a food fight.
Jon McGraw, a Riley native and safety, whose teams between 1998 and 2001 outscored KU by a combined 196-34, believes such proud statistics scream of significance.
"All the times we played them, it was never a contest," McGraw says, "but it was always a game we got up for every year. Even though we were favored heavily in most of the games, it was still something everybody took very seriously."
In the last 17 meetings under Snyder, K-State has outscored KU by an average of 40.6 points to 10.9. K-State has allowed 21 offensive touchdowns and has forced 40 turnovers. Kansas has averaged one touchdown in every 3.2 quarters, or one touchdown in every 51.4 plays from scrimmage.
In the last 17 meetings under Snyder, K-State has given up five scoring plays of 20-plus yards in 1,081 total plays from scrimmage. The 43-yard touchdown run by John Randle in 2004 remains the only rushing attempt in the past 613 carries to cover at least 20 yards and reach the end zone against the Snyder-led Wildcats.
In the last 17 meetings under Snyder, K-State has held KU to three or fewer points in 47 of 68 quarters. Kansas has scored in double digits in just 4 of 68 quarters as well.
Kansas failed to put a single point on the board in 12 of 16 quarters when McGraw and his defensive teammates were on the field during four games of utter domination.
"I never would've guessed that statistic," McGraw says. "Every week, we always put in a lot of hours, but in particular on KU week. I remember a number of games when we were calling out the plays that they were about to run and it just completely took the wind out of their sails. I remember the quarterback looking at me. They didn't have a very complex audible system, so there was nothing they could do. We knew the play they were going to run because we'd basically memorized their playbook. Our coaches prepared us and got us into the right position.
"It seemed like we just knew what they were going to do before they did it."
In McGraw's mind, the signature crushing, season-ending tackle of quarterback Zac Wegner that K-State fans know so well captures the unforgiving era of this rivalry.
"When Jeff Kelly and Travis Litton sandwiched their quarterback in 1998, I definitely felt sorry for the guy," McGraw says, "but that was indicative of our dominance over them."
Mike Wilson, a native of Salina, encountered the busiest day of his career in Lawrence on Nov. 2, 2002. The long-snapper hiked the ball eight times on extra-point attempts, twice for field goals, and twice for punts during K-State's 64-0 win over Kansas in the most-lopsided game in Sunflower Showdown history.
In the last 17 meetings under Snyder, K-State has scored 90 total touchdowns, including 55 rushing touchdowns, 29 passing, two punt returns and two kickoff returns, and one interception return and one fumble return.
The 2002 game marked the first meeting between Snyder and Mangino, his former K-State assistant, who took over a KU program that came off six consecutive losing seasons.
Wilson relished every moment of that day in Lawrence.

"It remains my favorite memory from all of my playing days," says Wilson, who was a part of 11-win teams in each of his seasons at K-State. "Lawrence was empty except for K-State fans for basically the entire second half. I don't know, man, it was just the best. Eleven years ago, it's still one of my favorite things to think about, just being up 30-0 on your rival at the end of the first quarter, and seeing their fans leave. It makes all of those 3:30 p.m. summertime running sessions worth it."
Wilson's brother, Clete, was a member of the 1998 K-State team. His brother, Jack, attended KU.
When Wilson returned to watch K-State play KU in Lawrence in 2004, he couldn't believe what he witnessed from his former teammates during a campaign in which the Wildcats finished at 4-7.
K-State's streak of 11 consecutive series wins ended with a 31-28 loss.
"We struggled a little bit that year but nobody thought we'd go in there and lose," Wilson says. "We thought we'd take care of business as usual. It wasn't easy watching that game in the stands. For me, I still had a ton of old teammates and friends on the team, and I didn't want them going out their senior season losing that game. It was tough to deal with."
K-State seemingly restored order with a 12-3 win in 2005.
But nobody could predict Snyder's "announcement" to come. Or the grueling next three years for K-State fans who suffered through Sunflower Showdown games under new leadership.
One observer recalls Snyder wearing an unfamiliar gaze of disgust as he emerged from a press box suite during the 52-21 loss in Lawrence in 2008.
"When I think about the reasons that Coach Snyder came back, and he says it was to calm the waters, I think he also saw what was going on with this rivalry, and he obviously wasn't OK with it," Wilson says. "This is a huge deal for Coach. There's the perception of things. You've got to win this game. That's number one.
"He'll tell you every game and every day is important, but this week means a little more."
Today, Wilson thanks Coach Snyder. K-State and the Sunflower Showdown simply wasn't the same without him.
"I don't even think you can put a value on how thankful I am," Wilson says. "When everybody heard Coach was coming back, one of the first things I thought of that day at work was, 'Well, now we have somebody who's going to beat our rival again.' For somebody who went to K-State and bleeds purple, there's no value, there's not enough superlatives you can throw out there to say how thankful you are that Coach is back at the helm of K-State football. You didn't realize how much you missed him until you looked at some of those scores.
"Then, when he had his first news conference, it suddenly felt like he'd never left."

Click
Here
to view this Link.
* * *
No doubt, Bill Snyder will be known for so many things when it's all over.
"Coach Snyder is an icon for the state of Kansas," Finney says. "I mean, he's 'it.'"
What exactly does Snyder mean to the state? Well, this season a record total attendance of 423,095 attended home football games. Thousands traveled down Bill Snyder Highway and took pictures with the Bill Snyder statue before heading inside Bill Snyder Family Stadium. Afterward, thousands stayed in Manhattan hotels, found friends in Aggieville, then, win or lose, made plans for the following game weekend.
But it's more than that.
"I just don't know if you can put it into words," Finney says. "Everybody knows who he is through what he did at K-State, but when he retired, he was jump-starting programs, working with Big Brothers and Big Sisters, and those kinds of organizations to help the state and to give youth the opportunity to better their lives, and to have somebody there for them who truly cares. He was even almost tricked into being governor."
For five years, K-State President Kirk Schulz has heard the stories from people from across the nation. He's heard about Snyder's impact. He's seen it firsthand so many times as well. His introduction to Snyder's nature came on a plane in 2009 as they flew to a Catbacker alumni gathering.
"He sat down and he's looking through all of these Nike catalogs trying to figure out what color the stripe ought to be on the football pants," Schulz recalls. "I'm thinking, 'Here's this legendary coach who has won a zillion games, and is revered through the state of Kansas, and he's worried about the color of the stripe on the football pants.' I've seen that happen a lot, those kinds of levels of detail. But I'm convinced that the change and turnaround at Kansas State football, it took somebody that really got into the weeds on everything. That meticulous nature -- I question if the football program could've been turned around without somebody with that personality."
For the 74-year-old Snyder, the oldest and fourth-winningest active head coach in the Football Bowl Subdivision, it's always been about the little things. And, well, when Snyder's involved, little things turn into big things -- no matter the arena. Under Snyder, K-State football has had 11 academic All-Americans and 115 All-Big Eight and All-Big 12 first-team selections. According to Diverse magazine, K-State ranks 10th nationally in graduating African-American student-athletes. K-State football has led the Big 12 in graduation rate in four of the last six years.

"Coach Snyder is a great ambassador for K-State," Schulz says. "We all know how successful he is on the field, but his work off the field distinguishes him from many of his peers. Coach Snyder takes great pride in the academic accomplishments of K-State and really understands that academics are the primary reason that students come to K-State. Indeed, many other college presidents have commented to me on how much they appreciate Coach Snyder and the way in which he represents our great university."
The Greatest Turnaround in College Football History began with stepping stones, of course. Turning a program that went winless in 30 consecutive games into a habitual winner takes a little bit of time.
Snyder is a future College Football Hall of Famer and only the third head coach in Big Eight or Big 12 history to win 100 conference games at a single school. He earned Big Eight Coach of the Year honors three times. He's earned Big 12 Coach of the Year honors four times. He received the Bobby Dodd National Coach of the Year Award in 1998 and again last season.
This list simply does the legend no justice.
However, one building block to this grand turnaround arrived when Paul Watson hit a freshman wide receiver named
Andre Coleman
for the winning touchdown in a 16-12 victory over Kansas on Oct. 12, 1991. A jubilant, younger Snyder hugged assistant coaches on the sidelines following his first victory over the Jayhawks.
Goal posts toppled to the field.
"I just remember Dre catching the pass from Paul Watson," Seib says. "Dre looked over his head and caught the ball running down the right sideline toward the end zone. That's all I remember. Finally getting over the hump was a big deal to us, and I'm sure we weren't favored in that game. Just getting the Governor's Cup in our locker room for the first time was a big deal to us."
Kansas responded with a 31-7 win over K-State in Lawrence the following season before the Wildcats outlasted the Jayhawks, 10-9, in Manhattan in 1993. The Big Eight-opening win keyed K-State's run to a 9-2-1 campaign and the appearance in the Copper Bowl.
"You're asking me to think back to 1991? Is that what you're doing?" Snyder cackles, sitting inside the Vanier Football Complex earlier this week. "Well, they had to be major (wins) because you've got to start someplace. We hadn't been able to do it for a couple years. Those were major wins. All of them are major wins when you think back then and how major they were."
Sixteen wins in the last seventeen meetings. Remarkable.
"Winning 16 of 17 against any team in any rivalry is so big," says junior wide receiver
Curry Sexton
, an Abilene native. "Like they say, in a rivalry, anything can happen. Everybody gets so jacked up for it. Underdog or not, if you let a team stick around, regardless of the quality of team, they can wind up and beat you. To prepare, play, execute and beat a team 16 out of 17 times is something you don't hear very often.
"That just shows how Coach prepares for this game, and how his teams get up for this game, and play to win this game."
That hasn't changed.
"Everybody has his own story, everybody has his own reason why this is so important," McGraw says. "But it was all business. It wasn't about going out and having fun in this game, it was about, 'We're going into this game and we're going to play our absolute best and we're not going to let them breathe.'"
As Wilson puts it, "We wanted everyone to realize there's one football team in Kansas. There's really only one representative on the gridiron for the state of Kansas and that's K-State. That's what I always want people to know."
Tannahill cherishes the ammo he's equipped with when he encounters KU friends. Football debates die a quick death.
"I know I went 4-for-4 against KU, so for the rest of my life, I have that for anyone who wants to talk to me," he says. "Having that in my back pocket is great."
Absolutely, Snyder is thankful for the consistent passion demonstrated by his players over the years in these games -- even if during KU week he won't fully isolate his praise toward success against an individual program.
"Well, certainly, to win 16 out of 17 you have to have a great deal of strong feelings -- pride, if you will -- in the young people that play, but I'm proud of them for a lot of different reasons, and always have been," Snyder says. "That may be one of them, but there's a lot of other things that they've done that allow you to have very prideful feelings."
Weis is the fourth straight Kansas head coach to suffer a loss to a Snyder team in his first season. Snyder teams have outscored Kansas first-year coaches 227-39. They've outscored Kansas, 155-30, in the second year.
"Over the last several years, it's turned into a one-sided affair," says Weis, whose roster includes 20 in-state players. K-State has 60 native Kansans on its team entering Saturday.
"It's important for Kansas, and the Kansas football program," Weis reiterates, "to treat the game with equal billing to what they do."
Seib recalls the early days when it was the other way around, when Snyder and his staff, despite the losses, pulled and pulled and pulled to eventually get the Wildcats over the hump.
"I just remember coaches putting up bulletin-board material during the week," Seib says. "I know KU still holds the overall series record and there were always KU players talking about how it wasn't much of a rivalry because of their overall dominance in the series. It was about anything that he could put in front of us to give us that little extra desire, something to stick in the back of our minds, providing that chip on the shoulder to go out there and play for Kansas State."
On a day dedicated to turkey, naps and football, he likely won't go back for second helpings, and the wheels will probably continue to align Xs and Os inside a head that seldom finds a pillow. That's Snyder. And that's a little bit of why, from coast to coast and across the globe, the Wildcat Nation is thankful for him, as he prepares for another trip to Lawrence.
In Seib's mind, this trek toward instilling a sense of in-state pride all started during two-a-days prior to the 1989 season. Snyder met with his team in Bluemont Hall, because Vanier Football Complex was under renovation.
Snyder handed each player a gray license plate with a purple Powercat in the middle. He said that he wanted them to have the first ones. He told them to put the license plate on the front of their vehicles in hopes that K-Staters might eventually follow suit. He said that they were going to start selling those license plates.
"That license plate is all beat up because I had it on one of my old college beater cars, but I still have that license plate in my garage," Seib says. "That symbol right there, you ask what does Coach mean to the state of Kansas, and you drive all over Kansas today, or all around the country, and you see that Powercat plate on the front of all of those cars.
"Now the license plates are all fancy, glossy, mirrored, and painted with every shade of whatever, but you never saw that kind of pride from K-State fans. We'd been beaten up for so long, we didn't show our colors."
Seib pauses. Forgive him if he grows a little emotional prior to this Thanksgiving weekend, which for K-Staters, is just a little bit more special.
"That, to me, those license plates, tells the significance of Coach Snyder," Seib continues. "The pride among K-Staters across the state and around the country is just remarkable. The Powercat is everywhere."
And all of those license plates, the old gray ones, the new flashy mirror ones, will be proudly affixed to countless vehicles that fill parking lots across Lawrence on Saturday.
That's what you do when Bill Snyder is on the sideline facing Kansas.