K-State pursuing Durley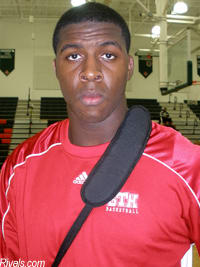 He's already done a round with the national media as a larger-than-life adolescent baseball player, but these days, his focus is squarely on basketball.
Aaron Durley
, once a Little League World Series star, doesn't mind talking about his past or his college recruitment via text message. The 2012 target will happily exchange short pleasantries and confirm reports that Kansas State has started a courtship. He'll even list off the handful of other schools interested in his services. The texts are prompt and polite and each one ends with the word "sir." Ask him to speak in more detail on the phone, however, and the 6-foot-10, Houston-based center displays his maturity again.
"I don't feel comfortable talking about colleges yet, sir," he writes. "Would you like to talk to my parents?"
No dodging phone calls, ignoring texts or showing off the clam-up routine so many other high school prospects already have trademarked. Instead, Durley, who wears a size 20.5 shoe, plants his man-sized feet and shoots straight from the hip. When you talk to his father on the phone, you quickly find out why.
Houston's area code precedes James Durley's phone number, but when he answers, he's about as far away from the Lone Star State as possible. "I live in Saudi Arabia," he says, and as it turns out, his basketball star of a son spent much of his life there as well.
"He's used to being around different kinds of people," James Durley, who works for an Arabian oil company, said. "We've been living in Saudi Arabia for quite a few years. He's in Houston with mom (and grandparents), but we lived out here as a family for a long time. He lived here from 2001 until the end of 2006.
"He played in kids leagues over here. We have basketball. It's not as competitive or serious as it is over in the states, but he played over here."
Even from thousands of miles away, James Durley remains involved in his son's basketball recruitment. When asked which schools are involved, he lists off the interested institutions from memory and without much pause for thought.
"Kansas State has been involved since last summer," he said. "There are quite a few schools. He's getting attention from Texas A&M, Arizona, Tulsa, Wichita State, Rice, Oklahoma. There are a lot of them.
No travel dates for campus visits have been made as of yet, but the process of identifying which ones to tour has long since begun. Aaron Durley has a list of schools he'd certainly like to see, but at least for now, it remains confidential.
"There are a few that we'd really like to go check out, but we're going to wait to do that until later in the summer." James Durley said. "I don't want to release any information on that yet. He just wants to go to a place where he can learn and grow. He wants a coach that can develop him into a good big man and be a good teammate."
Then there's this:
Despite being just 17-years old today, Aaron Durley has long since had his own Wikipedia page, and for good reason. As a 13-year old, he made media waves as the largest player in Little League World Series history while playing for the Arabian American team in the nationally televised event. He took the field in the little league tournament standing 6-foot-8 and weighing 245 pounds.
Durley was a second-team selection to Texas Association of Private and Parochial Schools Class 5A All-State squad. His K-State recruitment is being handled by Wildcat assistant
Matt Figger
.
Aaron Durley's first cousin, J.T Durley, currently plays for Gregg Marshall's Wichita State team.