K-States Thomas worthy of Heisman talk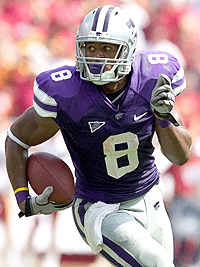 KANSAS CITY, Mo. -- If you asked
Daniel Thomas
, he'd prefer to skip this part. Reporters surround him, camera lights burn and voice recorders are thrust about. The questions come one after another, often a repeat of one he's already fielded. Like everything else about the young man, Thomas does what's needed. He patiently, quietly answers the inquiries.
This isn't why Thomas, Kansas State's star running back, plays football. He doesn't play for fame, media attention or the promise of money from the NFL. He plays for the same reasons young children congregate in fields with friends to play a game.
Daniel Thomas loves football.
The rest of it? He'd rather not.
The last thing Thomas seeks is attention, but now the attention is coming in waves. Three weeks into the college football season, the K-State senior is the nation's leading ground-gainer for running backs. He's second overall in rushing yardage behind only Michigan quarterback Denard Robinson.
Saturday against the Iowa State Cyclones at Arrowhead Stadium, Thomas pounded away at the Cyclones' defense 34 times for 181 yards in the Wildcats' 27-20 victory, raising his season total to 552 yards. There were no highlight reel runs; his longest of the day covered 23 yards. He ran with physical purpose, a shifty move here, a burst of deceiving speed there. Thomas is the type of running back that linebackers despise, head coaches love and NFL scouts crave.
It's easy to see why. At 6-foot-2 and 228 pounds, Thomas is built for the job.
"Before the game they said to be ready to carry the ball, so I got that mindset going," Thomas said. "They told us to be ready for a load, but I didn't know it was going to be 34 carries."
Forget the concerns about his health. Sometimes Thomas lifts himself off the turf after a bone-jarring carry like an elderly man getting out of bed. The pain doesn't linger. The ache of fatigue fades. Thomas returns to the huddle and lets it be known he's ready for the ball.
"I want the ball every play I can take it," he added.
Some think Thomas gets stronger as the game progresses. Maybe it's the defense wilting under his relentless punishment. His head coach doesn't really care what it is.
"I do not know if that is that case but I do know one thing; he does not get weaker as the game goes on,"
Bill Snyder
said. "We rest him from time to time … (but) he has been durable."
Those who closely follow college football knew who Thomas was coming into the 2010 season. After all, he's the returning All-Big 12 running back. Still, there have been few mentions of him as a legitimate candidate to win the Heisman Trophy. Admittedly, the award now seems to go to the best player on one of the top teams, but that doesn't stop the mention of Robinson, a sophomore for Michigan, as a candidate. Michigan, like K-State, seems doubtful as a national title contender.
Short of playing for a storied program such as Michigan or being the beneficiary of a big-budget, hyperactive award campaign or showing off an over-the-top personality that charms quote-hungry reporters, guys like Thomas don't usually get that level of attention.
Maybe it's time they did. In a college football world where a guy such as Reggie Bush can win the Heisman and give it back without much care, Thomas simply gives everything he can to help the Wildcats win, and frankly, no matter how worthy he is of postseason awards, he isn't about to campaign for himself.
"It's a great honor and everything, but I just have to go out there and keep playing. I don't worry too much about the Heisman and all of those other awards," he said.
So much of Daniel Thomas is lost in the conversion from the spoken word to them being spelled out. The above words are delivered without a hint of insincerity. Thomas is soft-spoken, shy, spiritual and somewhat new to this.
It took a long time for Thomas to rise to this level. He went from high school ball in tiny Hillard, Fla., to earning a scholarship following a tryout at Northwest Mississippi Community College. Originally recruited by Ron Prince to come to K-State, Thomas fell short of earning the associate's degree he needed to play for the Wildcats. He stayed the course and transferred to Butler County Community College for a year, and still found himself a class shy. Last summer, he completed his final class and joined the K-State football team in fall camp.
"It was very frustrating, just sitting in my room waiting for it to get here and everything. I talked to my dad every day, and we prayed a lot about it," said Thomas, the son of two pastors. "There were times when I felt like giving up, but my parents were there for me and they just helped me to get through it. To be where I am now, it's just a blessing. I've been through a lot and to have the little success I have feels good."
The work was far from done because after Snyder briefly flirted with using Thomas as a quarterback, where he played junior college and high school football, Thomas's new coach converted him to a running back. (When asked what changed his coach's mind, Thomas grinned and answered, "Probably seeing me throw.") Thomas had never played the position before. It took him 12 games to show he wasn't only the best back in the Big 12, but one of the best in the nation.
He's come back this season with the improvement gained via experience and his first offseason conditioning program at the major college level.
"It's a ton easier. Last year was my first year playing at running back, and I've been able to go out and watch film and pick out my game and look at my strengths and weaknesses and everything. I feel a lot more comfortable back there," he said.
It shows. Thus, Thomas better get used to the attention because it's only going to get more overwhelming. He's on course for a 2,000-yard season, and there's no sign that Snyder will lessen the load on his workhorse. Whatever it takes for the 3-0 Wildcats to keep on winning.
"If he does not carry the ball at all but we play well and do the things we are supposed to, I would be happy with that," Snyder said. "If he carries it 50 times and we do well and gain success from it, then I am happy with that too."
Through it all, Thomas will shrug, smile and accept the ball, the limelight and whatever else comes his way. That's just who he is.