Kansas State to debut new, alternate uniforms vs. Tulane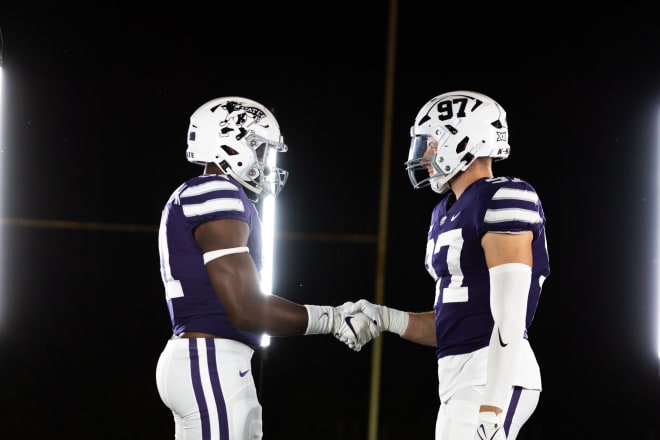 Kansas State wide receiver Kade Warner sat in a captain meeting with his teammates and head coach Chris Klieman discussing various topics when Klieman mentioned that the Wildcats had an "alternate."
Warner was confused. He didn't know what Klieman meant by the statement, but then the head coach left the room and returned with a special edition, alternate white helmet that Kansas State is going to wear on Saturday versus Tulane when K-State looks to improve to 3-0 on the season.
The white shell features Walking Willie Wildcat on one side of the helmet, while the other side of the helmet sports the player's number in black print while the Wildcats maintain their gray facemasks. To better match the white helmet, Kansas State is wearing white pants with their traditional home purple jerseys.
"It was definitely really, really cool," Warner said of the alternate uniforms that K-State is wearing this weekend. "And it's something that is very rare, from what I've heard from all the players here, they don't do it very often. I think the wildcat on the helmet is one of the first times they have ever worn it and everything, so I'm really excited for how it's all going to look on Saturday."
Kansas State teased the special edition uniforms on social media on Monday afternoon by sharing a video of head football equipment manager Al Cerbe speaking to the entire team – something he usually wouldn't do. Before showing the alternate look in the video, though, it ended with an excited room of players reacting to the alternate helmet.
"Al Cerbe is in charge," Klieman joked on Tuesday about the uniforms being released. "I'll let Al have the room. … It's something that Al and I have been visiting about and some of it is supply and demand and shipping and receiving. Everything seemed to go as planned to Al, and so this way the time do it. Pretty simple there."
According to photos on Helmet History, Kansas State previously sported helmets with the player's number on the side during the 1964-65 season as well as the 1957 season. No photos on the website featured the Walking Willie Wildcat logo on any helmet.
White helmets, though, have been commonly worn throughout Kansas State history. Recently, Kansas State wore white helmets, with various designs, during the 2019 season as an alternate look to the traditional silver helmet with a purple-white-purple stripe and Powercat logo on each side that were made popular during the Bill Snyder era.
Transfer quarterback Adrian Martinez wore various throwback and alternate uniforms in his time at Nebraska, including all-black uniforms to honor the "Black Shirts" moniker the Cornhusker defense has earned throughout history. But Saturday's game is the first time that he'll wear an alternate uniform design in his career at Kansas State.
"The guys are excited," Martinez said. "I guess we revealed a little teaser that I wasn't aware that the whole uniform wasn't released. Guys are excited about the look. Ready to go showcase it on Saturday.
"I think it is a special deal that doesn't happen all the time," Martinez said. "It gets the guys really excited. For me, I just want to win the game. I think that's where most guy's focus is."