{{ timeAgo('2022-06-22 17:51:14 -0500') }}
basketball
Edit
KSO Panel: Basketball non-conference games to schedule
Which team should Kansas State schedule for non-conference play in basketball?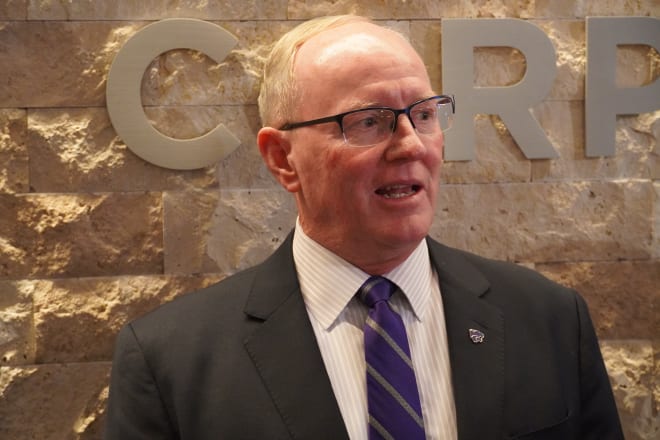 DY: They have much of the local programs taken care of at this point. Kansas State has played Missouri a couple times, have series ongoing with Nebraska and Wichita State and the rest are really conference foes.
Two teams come to mind for me and one is a nearby program that they have seen recently, though. That is Creighton. They defeated them in the NCAA Tournament under Bruce Weber thanks to a breakout game out of nowhere from Mike McGuirl.
It makes sense to rev something up with them.
Another I wouldn't mind seeing added to the docket, since apparently the state of Louisiana will be a primary focus on the recruiting trail with Texas, is having something with a school from that state.
Obviously, the goal would be LSU but even playing Louisiana Tech would have some appeal for the direction that Jerome Tang and company want to go in when building it up in Manhattan. Marco Borne has shown to have some pull in the Bayou.
FLANDO: I'm going to be selfish and go with Michigan State.
I grew up a fan of the Spartans fan and was raised in the town just east of East Lansing, Michigan before attending college in Manhattan, Kansas. Both Michigan State and K-State have sensational histories on the basketball floor. Michigan State is even considered a blueblood in the sport.
The last time the two schools met was a series in 1995 and 1996, a game on each campus, and they also played each other in Alaska in 1989. The Wildcats lost all three of the matchups.
The other four times they collided was in the 1950s and 1960s. Kansas State won two of those games.
My dream would be to see the Wildcats and Spartans both reach the national title game in the same season. So, I'll take a matchup in the championship game of the Maui Invitational instead.
DREW: I'd like to see the basketball program play a team like North Carolina or Kentucky, even if it isn't realistic. They are two of the biggest brands in college basketball and it'd be fun to see them in Bramlage Coliseum and K-State in Chapel Hill and/or Lexington.