Media Day Notebook: Iowa State
LOVE FOR THE STARS
Iowa State head coach Matt Campbell, unsurprisingly, shared thoughts about his his two players that are representing the Cyclones at Big 12 Media Days in running back Breece Hall and safety Greg Eisworth.
Campbell discussed Hall more in an off-the-field manner. What he does for them and the growth he has made in all aspects of his life is what has made his head coach proud. Hall is one of their better leaders and has helped foster the culture that they are attempting to promote.
Eisworth was described by Campbell as a transformational leader. Eight seniors that could have left have returned, but it was Eisworth that was called the most instrumental player in their rebuild.
He's a three-time all-conference selection in the Big 12 and Campbell revealed that they wouldn't have made the growth, improvement or achieve the success they've had without his presence and leadership. He set the tone for what they have accomplished in Ames.
Brock Purdy was another player that Campbell said that they would be nowhere without his contribution. It was at the end of last season that Campbell recognized that his quarterback had returned to the form he initially showed his freshman year.
Purdy may have been overwhelmed by wanting to be too perfect and caring too much and it paralyzed him and he wasn't optimizing his performance. That switch flipped in the latter half of the season where he began playing care-free, confident football once again according to Campbell.
PROCESS AND PURPOSE
Everyone knows the phrase from Matt Campbell that went viral a year ago when he proclaimed his program didn't have five-star players, but that they had created a 'five-star culture'.
More of that was echoed today. They are certainly conscious about the expectations and the hype that his team has received throughout the offseason and that they now have a target. They're picked second in the league and are predicted to appear in the Big 12 Championship Game for the second year in a row.
While they are outcome-aware, and want to be crowned and reach certain accomplishments, that they've had success as a program because they place the focus on the process and the purpose.
Confidence is gained and earned through the offseason, and he pointed out that they are still in the progress of doing so.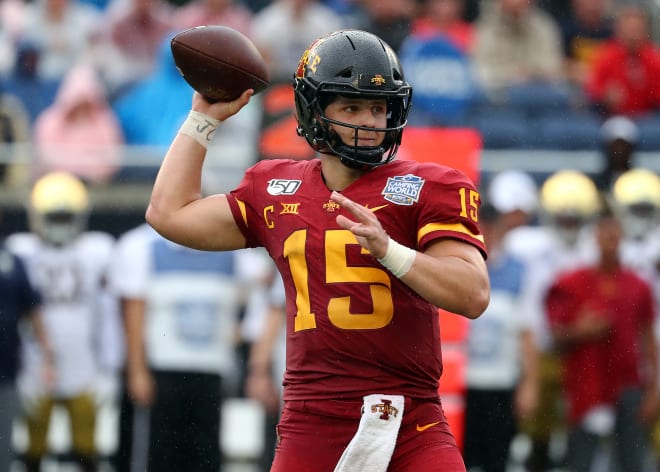 WHY CAMPBELL HAS STAYED
In the last two offseasons, there has been some buzz and reports that Matt Campbell was being sought and courted by NFL teams. He's clearly a target every offseason and has had opportunities to take ahold of a professional team.
So, the question was asked, why is he still in Ames?
For him, it is because he enjoys the journey and the track that college football follows a little more so. What he loves about football is teaching and coaching, and building a culture where players and coaches alike are attempting to grow and be the best versions of themselves.
The NFL isn't always that way. It's more of a business than college football is, and he'd rather teach and foster the growth of 18-22 year olds and have them all moving in the same direction, to better themselves, and to find team success.
SLOW STARTS
If not for slow starts, like a loss versus Louisiana or the annual trip-up versus Iowa, the Cyclones could have completed even more special seasons the last few years. Is there anything that can be done to cull that and prevent it from reoccurring?
Campbell answered that question with grace and accountability and dedicated his answer to more so him not doing enough for his players to put them in positions to come out on top and grab those necessary wins.
It is certainly something they have addressed and tried to find solutions for in the offseason.