100 things we learned at Big 12 Media Days
FRISCO - What did the KSO Staff learn at Big 12 Media Days? Glad you asked. Here's 100.
1. Josh Rivas has a very, very real chance to start at guard this year.
2. Bill Snyder describes Colby Moore as the, "special teams captain."
3. Skylar Thompson prefers In-N-Out burger to Whataburger
4. Gary Patterson gets to be, "just Gary," at Big 12 Media Days, not, "Coach Patterson."
5. Dana Holgorsen does not plan to coach at age 79. Or possibly be alive.
6. Bill Snyder says he wants to coach his six-year-old great grandchild. (Joking. We think.)
7. Brett McMurphy is really, really cool. Like, really.
8. Brady Quinn likes to pat guys on the butt. Or just Joel Klatt.
9. Dalton Risner also will pat a guy on the butt. Or maybe just Derek Young.
10. Kellis Robinett does own pink pants. And they're sweet.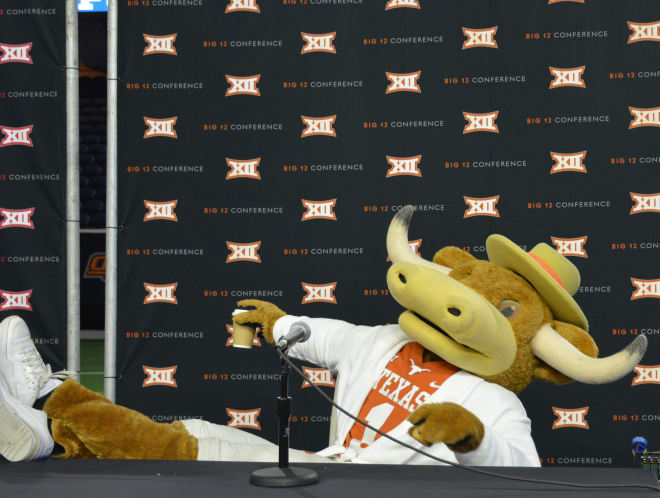 11. Mascots do love Matt Hall.
12. They also like to pretend that they're drinking coffee.
13. Bill Snyder would have cut himself as a football player.
14. John Kurtz made this a one-day trip. Kind of lame.
15. Mike Gundy does NOT want to talk about recruiting.
16. Tom Herman most likely got an A+ in speech class.
17. Matt Campbell gets A LOT of sun in Ames, Iowa.
18. David Beaty still believes he's building a championship program.
19. Ben Powers is kinda like a poor man's Brock Lesnar.
20. Bill Snyder believes he has eight quality offensive linemen he can play. (What formation!)
21. David Montgomery loves him some Kliff Kingsbury.
22. Oklahoma's Kenneth Murray thinks K-State fans are rowdy.
23. Players love TCU's uniforms. A lot.
24. West Virginia is apparently a really tough place to play.
25. Lincoln Riley low-key thinks the Stoops brothers have not recruited well.
26. Will Grier is a good-looking young man.
27. Gary Patterson thinks Big 12 Media Days is a good test for quarterbacks.
28. So does Bill Snyder.
29. Unlike Ben Powers, Amani Bledsoe still has respect for Kansas colleges.
30. Lincoln Riley thinks to win you have to recruit better.
31. Bill Snyder thinks to win you need to coach better.
32. Dana Holgorsen loves transfers. But, he doesn't believe they should not have to sit out.
33. Matt Rhule may have won the Masters at some point.
34. Gary Patterson helped springboard the new redshirt rule.
35. Gary Patterson will also call you out in a hotel lobby if you look at him.
36. Matt Rhule has tons of respect for Iowa State and TCU's defenses.
37. Tom Herman thinks he has, "some," elite players.
38. Tom Herman also has 34 players who can squat over 500 pounds.
39. KSO believes its has no players who can squat over 500 pounds.
40. KSO believes it has no players who can squat over 250 pounds.
41. Kenny Lannou has a pretty sweet suit.
42. The CFB Reddit writers have cool shirts, and everybody notices.
43. Joel Klatt lied about receiving a concussion in Manhattan in 2003.
44. Joel Klatt also lied about getting the wrong signals from the backup quarterback in 2003.
45. Matt Hall has a crush on Joel Klatt.
46. Bruce Feldman is still disgusted from covering the marathon K-State vs. TCU game.
47. You gotta stand up if you have a question.
48. Brett McMurphy really appreciated us bringing up people doubting his Leavitt story.
49. Oklahoma State has settled on a quarterback.
50. Kansas State has not.
51. Oklahoma has not committed to Kyler Murray as its starter.
52. Oklahoma may have its most talented team in years. According to Lincoln Riley.
53. Matt Rhule hopes his team learned something from winning just one game last year.
54. David Beaty thinks KU grew up from the, "Oklahoma incident."
55. Will Grier was easily the most popular player among the media in the two days.
56. Grown men can go to bed at 9 p.m. on back-to-back nights.
57. Ben Powers wants to, "crush grown men's dreams."
58. Bill Snyder was not interested in helping Texas Tech pick a quarterback.
59. Cy will bring you coffee.
60. Bevo will steal it.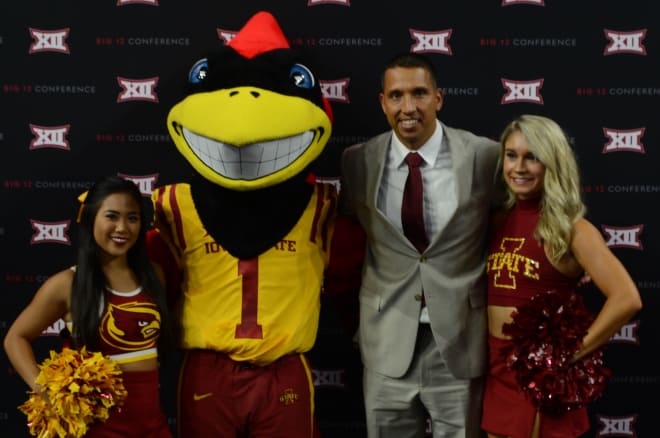 61. Kliff Kingsbury thinks Netflix and Last Chance U help recruiting.
62. Kliff Kingsbury doens't really wanna talk to the media.
63. Khalil Herbert was born with 12 fingers.
64. It seems like everybody in the Big 12 has a white helmet option, except K-State (at the media days table).
65. Duke Shelley was not in Frisco.
66. Bill Snyder believes you'll recognize his offense.
67. Bill Snyder does not really like the new kickoff rules.
68. Gene Taylor is open to the idea of playing Missouri or Nebraska.
69. Gene Taylor is probably also open to the idea of beer sales.
70. OU might only start one or two seniors on defense.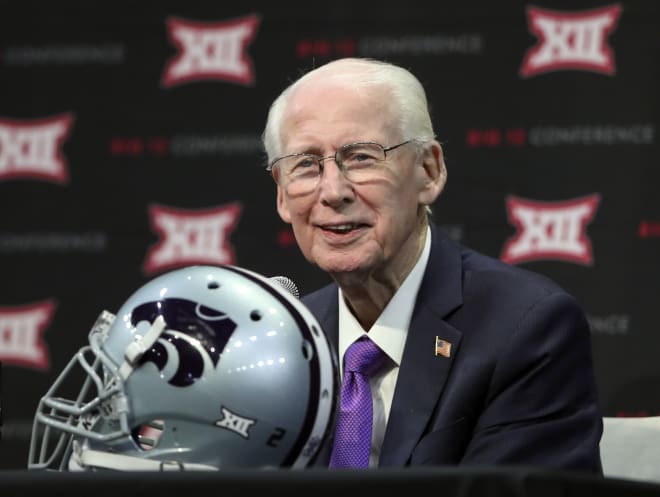 71. Bill Snyder will start a more experienced defense.
72. Boomer kiiiiiind of looks like Arthur.
73. Tom Herman is not sold (at all) on the idea of having Tim Beck call offensive plays.
74. Dana Holgorsen is hanging out with special teams, cause he, "has to do something."
75. Dana Holgorsen is not worrying about his players gambling, because if they're dumb enough to do that, they're dumb enough to do a lot of other things.
76. There was a lot of interest in the Texas punting situation.
77. Flando does not think David Sills is the best receiver in the Big 12.
78. Tom Herman is still giving his opening statement.
79. Kliff Kingsbury didn't even give one. Really.
80. Dana Holgorsen doesn't think it's fair WVU plays 11 power five teams while some power five teams only play as few as eight.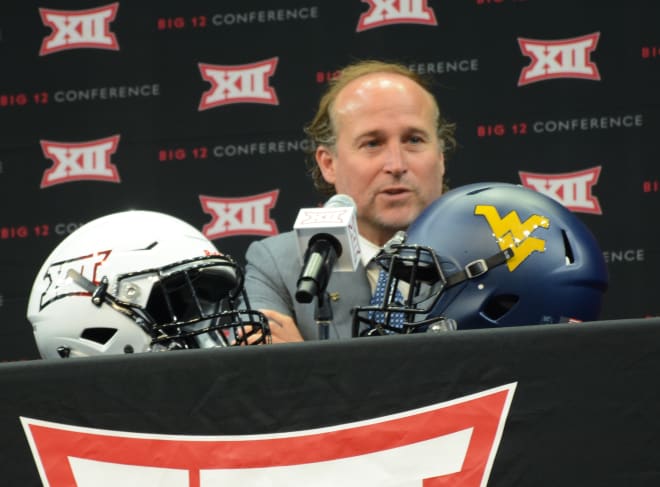 81. Lincoln Riley thinks the Big 12 has been the best offensive league the last 15 years.
82. Bill Snyder believes the triple option or wishbone could still work in the league.
83. Teams run variations of that offense in modern formations, according to Snyder.
84. The K-State Master Plan for facilities will be unveiled next month.
85. That plan should be done in seven years.
86. Mike Gundy thinks K-State looks like the team he played as a player in 1989.
87. Bob Bowlsby uses the phrase, "power drinking."
88. Matt Campbell thinks his offensive line will be a team strength.
89. Bill Snyder thinks running back is his team's strongest position.
90. Brady Quinn and Joel Klatt think Alex Delton will be K-State's starter.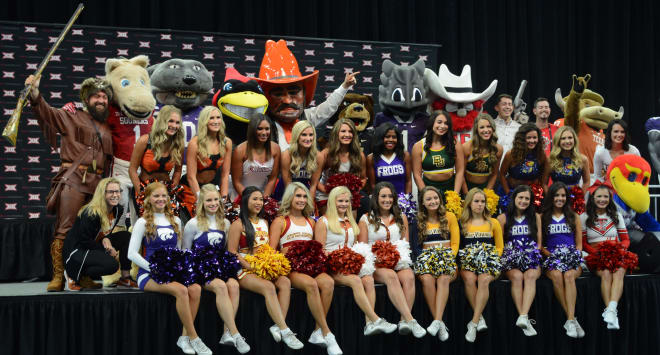 91. Dana Holgorsen likes having high expectations.
92. Alex Delton was recruited by Del Miller and Mike Cox - both are gone.
93. Flando is not Willie, but Oklahoma State thinks he is.
94. Next year's Big 12 Media Days will be at Jerry World.
95. This mini edition of Jerry World was still pretty legit.
96. Joe Dineen, Jr., admitted he has suffered multiple concussions.
97. Gary Patterson is not focused on Ohio State. He just brings them up unprompted.
98. Kliff Kingsbury (and Grant Flanders) look forward to watching Patrick Mahomes.
99. Bob Bowlsby said, "seven months and done" makes a "travesty of higher education."
100. Joel Klatt thinks K-State will win nine games.