{{ timeAgo('2022-06-23 04:15:00 -0500') }}
football
Edit
Q&A with new Kansas State commit Kameron Sallis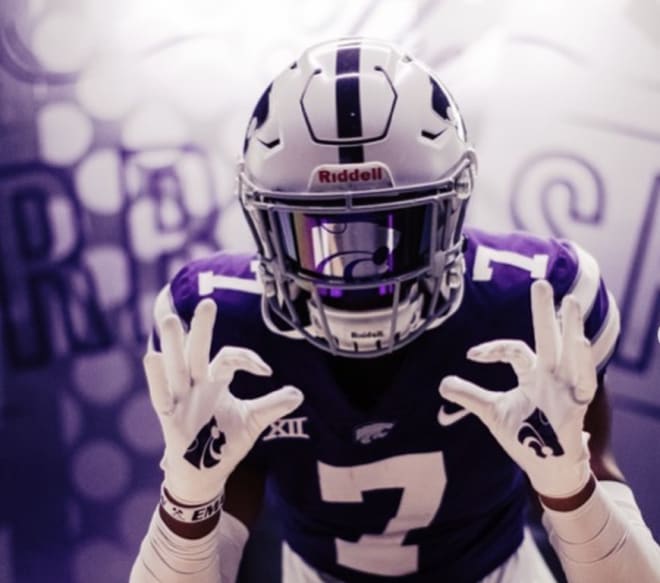 New Kansas State safety commit, Kameron Sallis told KSO he picked the Wildcats over Arizona State and Tulane. He was also receiving interest from Iowa, Nebraska and Texas Tech.
Sallis took an unofficial visit to Manhattan over the weekend and that was all he needed to see in order to give his verbal pledge to play in the purple and white.
We caught up with Sallis after his visit and before he made his announcement, so we spoke with him afterwards to gauge why he ultimately settled on K-State less than a month after their scholarship offer.
KSO: What were the determining factors for you in choosing K-State?
KAMERON SALLIS: That atmosphere was great, Everyone felt like family. Also, I like the track that they're on. They are on the track to a championship and I wanted to be a part of K-State's history.
KSO: Van Malone was your primary recruiter. What did you think of him?
KS: I think he is a player's coach just like the rest of the coaching staff. You could tell he wants the best for players, even after football. It's just a feeling that every recruit should want.
KSO: How about head coach Chris Klieman? What was your impression of him on you visit?
KS: Oh, he's a defensive-minded guy, so you know I love him already. He has a great mind-set and Im happy to be along with it.
KSO: What do the coaches say they like about your ability on the field?
KS: They said they like my ability to play man coverage and plug in on run support.
KSO: How would you describe your play on the field in your own words?
KS: I would describe myself as just an all-around playmaker. Playmaker badge on Hall of Fame. (video game reference)
KSO: Who is someone recognizable that you think you're comparable to?
KS: I really don't know, but i heard that i reminded some people of Grant Delpit. (Former LSU safety taken in the second round of the 2020 NFL Draft by the Cleveland Browns.)
KSO: What do you hope to improve on before you make it to campus next year?
KS: Mostly trying to improve on the details of being a defensive back, such as the spacing of the receiver.
KSO: What impressed you about the Kansas State campus?
KS: What Impressed me about the visit wasn't even the big, nice facilities but the future. We're building some special. Just know that.
KSO: What do you think of the new indoor practice facility K-State is building?
KS: I think it's going to be very helpful with performance.
KSO: What Wildcats have you connected with and what do you think of them?
KS: Camden Beebe, Wesley Fair, Andre Davis and more. They're cool people. We are all hungry.
KSO: Where do you get your inspiration from?
KS: My entire family and the people who have believed in and supported me through this entire process.
KSO: Shortly after your commitment you tweeted that more good news is on the way for Kansas State. How soon do you think?
KS: Real soon. (He was right.)