Raging battle continues over Romero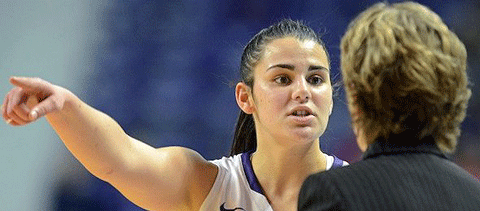 In case you've missed it, Kansas State women's basketball player Leticia Romero wants to transfer from K-State and the university has denied her request. It's doubtful many people have missed it, though, because the controversy of Romero's transfer has turned into national news, which honestly isn't typical for women's basketball.
Those who take a passing glance at this case will simply state that K-State needs to release "Leti" Romero from her scholarship agreement because, after all, John Currie, the school's athletics director, just fired Deb Patterson, the coach who recruited her. That wasn't Romero's choice.
This is true, but the NCAA has always been clear that when players sign a letter of intent, they are signing with the institution and not a coach. Yes, it's a bit simple in its approach because a student-athlete is only going to sign with a coach he or she likes at a school he or she likes.
Still, players don't belong to coaches either.
For now, Romero has been denied by K-State (the athletic department and a university appeals board) a release from her athletic scholarship, which doesn't mean she can't leave. It just makes her next year more challenging. She can pay her way to attend another NCAA Division I institution, and still sit out as a transfer, or attend a junior college for a year until she becomes a "recruitable" student-athlete again.
If granted a release, Romero could go to another NCAA member school and sit out a year as a transfer, then be considered a sophomore the following season.
Some say just let her go. Other athletes have been given releases, including Angel Rodriguez and two other men's basketball players a year ago following the previous year's hiring of Bruce Weber. Requests were made, and releases were granted.
The fact that Romero is being denied should be a clear indication that there's much more here than is known publicly.
Currie offered his first public statement on the issue Tuesday morning in a series of posts on Twitter. (Editor's note: Currie's "tweets" have been combined and abbreviations used on Twitter have been corrected for clarity.): "Student privacy prevents discussion of individual student issues. As athletics director I have an obligation to all of our student-athletes and institution to ensure department and university procedures are followed. Generally speaking, on RARE occasions that we have denied a student-athlete transfer release it has been because of concerns about outside tampering, undue influence by third parties or procedures not being followed in an honest and forthright manner."
Knowing one side of the story is not knowing all the facts. K-State cannot specifically comment on the Romero matter, and Romero has been quite vocal, throwing around the word "blackmail" and claiming Rodriguez was denied a request two years ago when Weber was hired.
Funny thing is Rodriguez never made such a request. Funny thing is no one from K-State, from South Carolina (where the coaches who recruited Rodriguez are now working), or from his home region of South Florida/Puerto Rico ever made such a claim.
The world only heard about this after Romero stated it. It's a claim that simply is not rooted in fact. (FYI, Romero arrived at K-State after Rodriguez departed for the University of Miami.)
So, what is different about this situation than previous ones?
NCAA rules clearly prohibit member institutions from recruiting players on scholarship at other institutions, either directly or through a representative, to entice them to transfer. In reality, such "tampering" goes on.
And it sounds like it has gone on this case. Romero, after all, is a special player. She's a difference maker, although her skill set only helped her lift Patterson's final team from awful to simply bad.
Most NCAA women's basketball programs would love to have Romero on their roster. She averaged around 15 points, five rebounds and five assists a game last year as a freshman point guard. The freshman from Las Palmas, Spain, is special.
Even more different about this case is the suspicion that one of the former coaches is actually dangling Romero as an enticement to get a new job. Note that none of these coaches have been announced as new employees at any other schools. (Shalee Lehning, a former K-State star and assistant coach under Patterson, was offered a job under new K-State coach Jeff Mittie and she turned it down.)
It's hard to recall another case of a coach using a player under scholarship as a pawn to get a new job, which shouldn't be confused with former players eventually following a coach to their new job.
That is apparently K-State's concern in this case. If this is allowed to happen, recruiting would never end. Athletes on scholarship would be subject to ongoing recruitment and when coaches departed for new jobs, willing or not, they'd could entice their top players to follow along, gutting the other school's program.
K-State has taken a stance here. Some people don't agree with that stance, some people don't understand it and some people don't care, claiming there's no reason, even if all of this is true, to take a black eye over this situation. Along with the final of those stances, there's often the ugly undertow that it isn't worth the bad publicity "over women's basketball."
Currie and K-State do not agree. There are obviously things they know, or are still investigating, about which they cannot publicly comment.
One source with information about the women's program did tell GoPowercat.com that all matters regarding the women's basketball program have been slowed by someone's attempt to destroy records, both in paper and digital formats, concerning the program and its players, including their recruitment and medical histories.
Another source also stated that there was a lot going on inside the program that has been learned following Patterson's firing that has strongly reinforced the decision to fire her as coach.
What is becoming clear to those who take time to research the situation is that an internal investigation into the activities of the former women's program and its former coaches is underway. This has left Romero in limbo.
K-State and Currie don't appear to be close to relenting. Romero likely will only be released when K-State officials are satisfied they know all of the relevant facts and that the former coaches will not benefit from recruiting Romero to transfer while under scholarship at K-State.
Like it or not, this ugly case will likely drag into the future.
There's a vicious game of tug-of-war going on right now between the K-State athletics department and the former women's basketball staff. Sadly for all parties, the rope is named Leticia Romero.