Ranking the most impactful transfers of 2023 for K-State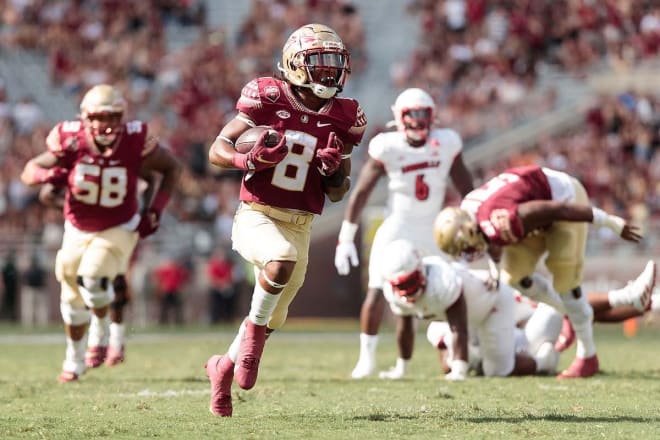 K-State could still look into the transfer portal to fill out their roster for 2023, but it would have to be a very precise need and fit. The portal entry window has also closed now and will not open back up until after the regular season comes to an end near the end of the calendar year. The only players that could enter the portal now are grad transfers. With that in mind, let's take a look at who the most impactful transfer additions to the Wildcats' roster will be in 2023 and what makes each newcomer to the Wildcats significant.
*Only transfers from other NCAA schools were included, as Rivals counts JUCO transfers in the class of 2023 rankings
1. KEAGAN JOHNSON, WR (IOWA)
Keagan Johnson was the first add in the transfer portal cycle for K-State and he came at the biggest position of need for K-State after 2022. Malik Knowles and Kade Warner both moved on as graduates and NFL roster invitees, leaving just Phillip Brooks and a slew of receivers with minimal on-field experience on the roster.
Johnson was highly regarded coming out of high school as a four-star receiver and committed to Iowa. A few things held Johnson back with the Hawkeyes though, including a few injuries and the most stale offense in college football. Now, he will try to be the second Hawkeye to find transfer success at K-State (Julius Brents).
K-State saw big improvements in the offense in 2023 with Collin Klein as the offensive coordinator, mainly in the passing game where Will Howard went from an unlikely contributor to one of the best in the Big 12. With Howard's newfound success and Johnson's talent, this could become one of the more notable quarterback-wide receiver connections in recent memory at K-State.
2. TRESHAUN WARD, RB (FLORIDA STATE)
Another big position of need for K-State was running back, after losing Deuce Vaughn to the Dallas Cowboys. Fortunately for K-State, they didn't need to hit a home run since they had DJ Giddens on the roster still. But if Treshaun Ward wasn't a home run, his commitment to K-State certainly felt like a triple.
Ward is similar to Johnson, there was talent coming out of high school and going to a high-profile school, but for one reason or another was only able to shine in limited roles. 2022 was Ward's most productive season, running for over 600 yards and seven touchdowns. He also helped the Seminoles take down Oklahoma in the Cheez-It Bowl with 81 yards on 10 carries and two touchdowns.
The flash that Ward has shown in his career makes him an exciting and intriguing addition to the K-State backfield. Ward and Giddens will both see equal amounts of time on the field, and it isn't crazy to think that Ward gets a higher percentage of the snaps.
Pro Football Focus even noted that Treshaun Ward will be the second-highest-graded returning running back to the Big 12.
3. JEVON BANKS, DT (MISSISSIPPI STATE)
The Wildcats had been spoiled for as long as Eli Huggins was able to plug up the middle of the K-State defense, but after exhausting his eligibility and graduating the Wildcats were looking at a very thin position.
Uso Seumalo and Damian Ilalio will likely see time here, but the Wildcats needed to add another talented player that was capable of competing in the Big 12. What they got was Jevon Banks from Mississippi State. Banks is going to be a solid contributor, but his biggest benefit is going to be depth in a position that was mighty thin.
4. MARQUES SIGLE, DB (NORTH DAKOTA STATE)
Marques Sigle was the second transfer portal add for K-State and he comes from a familiar place for Chris Klieman and many of the coaches on K-State's staff. At North Dakota State, Sigle saw time all over the field and he will likely play that "jack" spot for the Wildcats.
K-State has had success with undervalued transfers at the position over the last two seasons, Reggie Stubblefield and Drake Cheatum both helped solidify the K-State defense. With a likely starting job and a position that is integral to K-State's defense, Sigle is going to get the chance to make plays for the Wildcats.
5. TYLER NELOME, DB (SOUTHEAST MISSOURI STATE)
Tyler Nelome was one of the most sought-after transfers left in the portal when K-State added him in mid-May.
What this add does for K-State helps with depth in the secondary which will again see unproven players trying to make their mark and a player with experience that could be the next big transfer defensive back like the aforementioned Brents or Josh Hayes from a season ago.
6. JACOB KNUTH, QB (MINNESOTA)
This addition to the Wildcat roster kind of came out of nowhere. The Wildcats were fine at quarterback with Will Howard, Jake Rubley, Adryan Lara and Avery Johnson on the roster, but a storm could be brewing in the near future.
Jacob Knuth's addition likely has no impact on 2023 for the Wildcats, but if something were to happen after this season where Howard exits for the NFL Draft and Rubley or Lara (or both) decide they have waited long enough and know that the uber-talented in-state product of Johnson is lurking, that could be three quarterbacks that bolt. Leaving just Johnson and the incoming true freshman in the class of 2024 Blake Barnett on the roster.
The best part about Knuth's addition for the Wildcats is that it appears he is doing it as a walk-on and not currently taking up a scholarship.
***BREAKING DOWN QB TRANSFER JACOB KNUTH TO K-STATE***
***TRACK ALL TRANSFERS IN AND OUT OF K-STATE FOOTBALL FOR 2023***