Stars act of kindness touches youth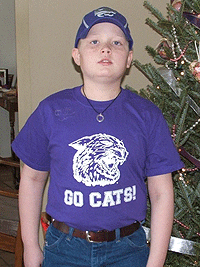 Kansas State freshman
Michael Beasley
has established himself head-and-shoulders above the competition, but a recent act of kindness by the high riser with a down-to-earth personality brightened an otherwise difficult day for an 11-year-old boy. And of all the fans at Bramlage Coliseum during a women's basketball game on Jan. 19, nobody told Beasley that Blade Winter likely needed the lift most of all.
"For that to happen, it was really cool," said Trent Winter, Blade's father. "It was pretty incredible."
Blade has leukemia. And although it is currently in remission and it has been nearly four months since his last chemotherapy treatment, he still suffers aches and pains much greater than any basketball player could experience after a two-point loss. Originally diagnosed with leukemia in 1999 when he was three years old, Blade appeared to be on the road to recovery after three and a half years of treatment. Then he relapsed in June 2005. His latest 27-month bout with chemotherapy ended last October.
Navigating the arena stairs hurts, but the blond-hair, blue-eyed native of Clifton, Kan., is too "macho," according to his father, to ask anybody to carry him to the family's seats in the southeast side of Bramlage at home basketball games.
Such was the case during the Kansas State-Colorado women's contest. And during halftime, a determined Blade made his way to third-cousin Zach Winter, a 22-year-old junior at K-State, who stood in the front row near midcourt dressed in a referee's polo shirt. Blade hoped to get a better view of the halftime performance that featured the Kansas City-based Marching Cobras.
"Blade knew he could get down low beside Zach, or that he usually can," Trent said.
Problem was, Blade had no where to sit.
"Blade was just hanging out near the aisle next to Zach," Trent said. "I think he was leaning on the railing when during one of (the arena usher's) routine trips up and down the stairs they told him he was going to need to find a seat or go back up (to his own seat)."
That's when a familiar face turned around in his courtside seat and intervened.
Beasley informed the usher, "Oh, he's just going to hang with me."
The 6-foot-10, 235-pound Beasley lifted the 4-foot-2 Blade over the railing and plopped him in the padded chair beside him, where Blade found himself also sitting feet away from some of Beasley's teammates --
Dominique Sutton
,
James Franklin
and
Jamar Samuels
.
"He was sitting on the steps and didn't have a seat," Beasley said. "Security told him he had to find a seat. I didn't want him to have to walk all the way up stairs. I mean, he was sitting with his cousin and he was obviously having fun, so I had to tell the guy he was with me."
Beasley wasn't aware of Blade's illness.
"It was pretty touching," Zach said. "It was good to see an athlete like that step up and be a role model beyond the court."
"We see some of those kinds of (acts) because of Blade's situation, but there was no way Mike would've known that," Trent said. "When Mike did that, he did that for a kid, not for a kid with leukemia. That makes it even cooler. He just did it."
Blade had no trouble seeing the halftime show or the second half of the basketball game. Upon spotting Blade sitting beside Beasley, children flooded the railing for Beasley's autograph. Beasley and his teammates also signed a t-shirt for their new friend.
"He was pretty ecstatic," Beasley said. "He was just loving it. The smile didn't come off his face all game."
It had been a tough day for Blade, who arrived in Manhattan with his mother, Connie, and 16-year-old brother, Barrett, earlier and watched Beasley and the Wildcats play from a local restaurant.
"He felt lousy that day, so in the second half of the men's game, Connie drove around and he just slept in the pickup," Trent said. "But we were going to meet for the women's game, and although he was feeling crummy, he was able to get some sleep and wanted to go ahead to the game.
"It's kind of week to week whether we make it (to a game) or not."
Just as Beasley and his teammates battle, Blade does, too. In a different way.
"His major issues right now are physical therapy problems that have come about through years of chemo and surgeries," Trent said. "During that second go-around (with chemotherapy) he had a stretch where he had 11 or 12 surgeries in a couple months. He had some infections and they had to take a little bit of his lung. It snowballed for a while."
The Winters travel frequently to Children's Mercy Hospital in Kansas City. On Wednesday, Blade had three appointments there, including an orthopedic appointment, and the family didn't arrive home until late that night.
"The chemo never let him grow like he should have, so he's trying to get his feet straightened up and get strength back," Trent said. "He's come a long way in the last six months. Technically, he's got two fractures in his pelvis right now after he fell. It's one of those deals where you're just careful and let it heal. There's nothing (doctors) can do. That's some of the pain."
Because of Beasley's kind gesture, though, Blade is smiling more these days.
"He told me, 'This is the coolest day ever,'" Trent said. "Three hours before the game, he was miserable."
At a time when superstars are often seen as untouchable, the 18-year-old Beasley said he has no problem staying grounded.
"I have good people around me," Beasley said. "My mom, my pops, coaches and teammates help me stay grounded. They would all get mad if I got a big head and I don't ever want anybody to get mad at me."
So instead, he gave a young fan a day that he'll never forget.